Vans Warped Tour 2008 @ The Home Depot Center
Vans Warped Tour 2008 @ The Home Depot Center, Carson, CA
Posted Aug 24, 2008, by Victoria.

Genre: Punk; Rock; Ska;
Written by Matthew and Victoria.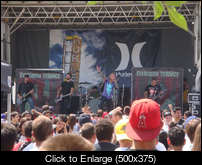 Evergreen Terrace

Evergreen Terrace was the first band that we saw. They played on the Hurley.com stage. I had never previously heard of or seen Evergreen Terrace but I enjoyed their performance. They have a hardcore sound. Towards the end of their set, they played a hardcore cover of Mad World by Tears for Fears. Unfortunately, they decided to cut the song short because of a fight that broke out in the crowd. After Evergreen Terrace, we headed over to the Vans stage to check out the Street Dogs.

Street Dogs




The Street Dogs put on a really cool set. It was my first time hearing and seeing them also, but their music was easy to get into. They have a solid punk rock style which reminds me, somewhat, of the Bouncing Souls. At one point, the Street Dogs rallied the crowd to pit around the sound tent.

Aggrolites

We checked out the Aggrolites on the Hurley.com stage. I have only previously heard of the Aggrolites because I knew that they were featured on kids show Yo Gabba Gabba. I really, really liked their style. They were ska and very energetic. I loved how they were all dressed alike in plaid blue button up shirts. Incorporated into their set was a cover of the Clash's Guns of Brixton, The Specials and the Beatle's Don't let me down. They were a lot of fun to watch.

Norma Jean




I really have to say that Norma Jean blew me away. Not only are they musically talented, but they know how to keep a crowd going. They have a straight up hard core sound that is loud and rockin. I couldn't keep myself from wanting to move. If I wasn't carrying such a heavy bag I would have definitely jumped into one of their many massive pits.

TSOL

We really didn't get a chance to watch TSOL's entire set. We had seen TSOL before and were eager to check out Ludo who was playing at the same time. We were only able to catch some of the beginning and part of their closing song: Code Blue. However, the pit was fierce, and we were glad to see TSOL playing that Old School Punk Stage.

Ludo

It was so much fun to watch Ludo play. I had only heard the song "Love me dead" before and I really liked that song and after seeing the music video I just had to see what those guys were all about. I was not disappointed at all. I loved the way they played and they were so funny! They had everyone laughing with their jokes and playful personality.

Against Me

Against Me was playing after TSOL on the Vans stage but we really didn't get a chance to watch their set. But their crowd was massive and we were able to catch the picture shown above.

Taco Stand

We got really hungry in the middle of the day so we brought ourselves to stand in that very very long line for the taco stand. Of course we paid like 10 dollars for a bean and cheese burrito and like 5 dollars for 1 taco but it was pretty good and satisfied my appetite also giving me enough energy to make it through the rest of the show.

GBH

Watching GBH literally took me through a time warp. They left me with the nostalgic feeling of 10th grade. I was surprised that they didn't play the old school punk stage but the van's main stage instead. I was pleased none the less. The pit was huge, the fans were wild. It was awesome. Of course, the vocalist was standing on stage singing, wearing his infamous leather jacket even in 100 degree weather.

Horrorpops

The Horrorpops played an awesome set. They have an incredibly unique style featuring a stand up bass, guitar, drums, and female lead vocals. The also have a hell of a commanding attitude at one point getting the audience to sing 'My fist in the middle of your face' as opposed to 'My house in the middle of the street.'. They also reminded the audience that when the Horrorpops ask a question, the only answer is 'Hell Yes'. The guitarist in the Horrorpops is also the lead singer in the Nekromantix, and I wish I had his guitar.

Fear

Fear played on the Old School Punk stage. I was never too familiar with many Fear songs, but they really had the crowd going. It seemed like they played a million songs!

The Briggs

We were only able to catch the last two Briggs songs, but those two songs were just enough to remind us how good they are. The Briggs also played warped tour last year, hopefully they can come around again next year.

Germs

The Germs played the Old School Punk stage. I think it was a surprise to everybody that they were playing this years Warped Tour. Personally, I never thought I would ever see them play live. The Germs are as punk as they get. Their set was awesome. Read more about the Germs' set in the Bear's Warped Tour Review.

Rise Against

Rise Against has to be one of my favorite new bands out right now. They are seriously awesome… unfortunately I didn't get to watch their entire set. We got there just as they were finishing up with their last few songs. A hit song such as "prayer of a refugee" had the massive crowd going. It was seriously packed. Dozens of eager crowd surfers were flying atop of the crowd singing lyrics to their favorite songs. It was really awesome. I wish I could have been closer to the stage to get the full effect of Rise Against. I can't wait to check them out again.

Reel Big Fish

After Rise Against finished up the huge crowed cleared out. We pushed through the traffic to try to get a good spot for Reel Big Fish. We had a nice view of the stage and were reasonably close. The band came on and immediately everyone went nuts. People were jumping up and down all around me. Reel Big Fish, if you haven't heard, have a fun go getting attitude that goes along with their music. They have a non stop straight up ska sound with lyrics that say "I want your girlfriend". They were so much fun to see and had everybody laughing and didn't fail to keep their crowd's attention. Towards the end of the set they played one of their songs, proving that ska is not all they can play, in about every style of music there is. I was impressed, seriously. They kept saying they were the "masters" of music, and every time they said the word "masters" the drummer made a Metallica reference. I wished that I could have gotten all that on video.

Gym Class Heroes

By the time Gym Class Heroes came up, I felt as though my feet were planted in 2000 ton concrete bricks. I wasn't sure if I wanted to stay and watch their set, because I was vaguely familiar with their music. Despite the fact that my feet and ankles were literally swollen to twice their normal size, we stayed to watch them. They came on with a BANG! I was really surprised to find the Gym Class Heroes to be to my liking. I had completely forgotten that it was nearly impossible for me to stand another second just a few minutes before. Even though it was getting dark, they managed to light up the stage just with their presence alone. People were dancing around and singing along looking just as tired as I was. Real troopers those Gym Class Heroes fans were. They finished up their set with their last song and had Katy Perry running around on stage waving an oversized Gym Class Heroes flag. Dancing along side of her was a lady in a pink puffy, bride's maid's nightmare of a dress and a giant rabbit mask. It was weird but still, interesting to watch.