The World is a Beautiful Place & Friends Indie Supershow
The World is a Beautiful Place and I am No Longer Afraid To Die, Pity Sex, Adventures, Dads, Brightside & Sup, Muscles @ The Roboto Project, Pittsburgh PA, 7/16

Sit down and prepare your earholes, friends. This show was filled to absolute capacity- and then some- with amazing bands. Just like Aerosmith, I don't wanna miss a thing, so let's get right down to it.

First, a compilation of statistics and fun facts:

Bands: 6 total. 6! At an all-ages show on a Tuesday! What fun!

Running time: 4.5 hours

Total Number of Lady Musicians: Also 6! An average one per band is a pretty solid average. It was awesome to see so many fellow ladies doing their thing and rocking out.

Best audience t-shirts: Gotta give this award to
1. The bespectacled boy ironically wearing a Jews for Jesus shirt. Well done.
2. "Everything was beautiful and nothing hurt" I'm happy anytime I see Vonnegut outside of college lit classrooms and in the wild.
3. Honorable mention for anyone wearing FLANNEL at this show. It was approximately five thousand degrees and shoulder to shoulder crowded. While I don't understand this choice, I respect the commitment.

Total Macklemore haircuts: Too many to count.


Best Merch Item: Dads NASA-style logo on a tie-dyed tee. I am regretting not picking one of these up!  Upbeat and fun, just like this band.

Most Popular Snack: Spak Bro's Pizza across the street! Slices are 2$, get yourself some next time you're at a Roboto show, friends.


The Taylor Swift Award For Fan Enthusiasm: Pittsburgh locals Brightside. Their set was so high energy and the crowd was so into it I would have sworn they were the headliners. More on them later.


The Elliot Smith Memorial Lyric I Wish I Wrote Award: Adventures for "There's not a place in this world I'd rather be than everywhere at once" from track "Promise"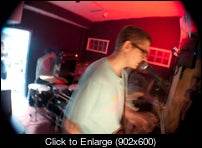 Sup, Muscles?

I missed this set entirely, but got to meet frontwoman Molly at the merch table later in the evening, and she's super sweet, so you should check out her bandcamp page. Self-decribed as "tappy mathy sad girl music", I think she maybe sells herself short. The demo up on bandcamp is rich with layers and displays her airy, lilting voice. I'm excited to catch her with her other band, Ronnie Dobbs, later this month at Roboto.




Brightside


All I can say about this band is "whoa". I've seen national acts come through Pittsburgh and struggle to get thirty people through the door on a Tuesday night, but these guys had a shoulder-to-shoulder crowd before the sun even went down. I can see what everyone was so excited about. While still a good fit for the emocore offerings of the evening, they were uptempo and lots of fun, think more surf-y, cool Weezer than shout-y, sad Dashboard Confessional. "Coffee and pie, oh my!" from their Good Enough release had everyone on their feet and shouting along with singer Matt V. With talent and charisma to spare, I'll be keeping an eye on this band, and you should, too.


Dads


What stood out to me about these guys was their sense of humor. It's not every introspective two-piece that could pull off putting the anarchy symbol in their band logo, but they have so much fun playing music that it's impossible not to like them. Guitarist Scott Scharinger builds a full, robust sound that made me do a double take and look for another guitarist onstage, but it's all him. The vocals were shout-y, but never strained and these guys have mastered the art of the earnest, repetitive outro, so much so that even having never heard of them before, I was singing along to "Dan's Christopher Walken Impersonation" by the end of the jam.


Adventures


This was the local release for the band's new record Clear My Head With You. This band was everything I wish Paramore could be. The vocals transition easily from riot-girl growl to easy melody and the band has the talent to make those transitions look easy, in addition to winning my lyric award for the evening.


Pity Sex

Band #5, friends. Are you still with me? This band had a dreamy, retro-cool feel. I loved the dueling guy and girl vocals and had a great time bopping my head along. They reminded me lot of my favorite bands from college, like Death Cab for Cutie, and stood out for me with their maturity. The awesome thing about this show for me was the range of different sounds within the "emo" (for lack of a better descriptor) -style genre. All of the bands fit together well, but everyone brought a little something different to the table, and the crowd was pumped for every second of it.
 Please do check them out here.

The World is a Beautiful Place and I am No Longer Afraid to Die


By the time these guys took the stage we were four hours into the evening and a half hour past the venue's standard closing time, but they were incredible and well worth the wait. With every instrument you can fit in a touring van including a cellist, these guys are the indie rock masters of the slow build with amazing payoff. They reminded me a lot of Explosions in the Sky with their range of sound and atmospheric melodies. The Roboto Project's stage is in a room that used to be a commercial kitchen with patchy acoustics to match, but this band had a full, rich sound that was even more impressive considering how most bands fall flat in the space. I'm really glad I got to catch them while they were in Pittsburgh and will definitely have them in heavy rotation on my iPod.


Whew! What a night! It was awesome to see so many people come out on a weeknight to see these bands. Everyone brought something a little different to the table and somehow, after 4.5 hours, left me wanting even more.