The LBC Gets dirty w/Sex N Vilolence @ Alex's Bar
Posted May 12, 2008, by MELODY.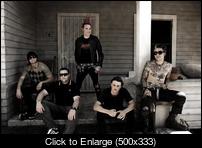 Tattoos, men in tight pants, and loud music that makes your ears bleed...I can't think of a better way to have spent my Thursday night! Alex's Bar is notorious for bringing out some of the best talent to the popular Long Beach scene, and Thursday night had music fiends enjoy the rippin sounds of Longway and Sex N Violence.

Punk Rock man!!! Orange County local's Longway tore it up, and begged me to scream "Love It!" They had the unfortunate position of warming up the crowd for Sex N Violence, which meant a small crowd and a quiet staleness in the air from a lack of alcohol consumption. All things aside, they still brought it like the house was full of crazy, moshing fans. Their sound; fast, hard, foot tappin yummy good-ness. I think the eye-patch wearing, sexy, crazy guitar player got the girls a little rowled up when he jumped up on top of the bar and started wailing out his solo. I was just waiting for the inappropriate under garment to be thrown, but fortunately the girls contained themselves. It was definitely entertainment for the kids that came out to enjoy some punk rock, psycobilly craziness. Some of the songs that hit the speakers that night included "Sorrow" and "Fade to Grey." Check the guys out at www.thebandlongway.com, I promise you will not be disappointed!

My night ended far from disappointing thanks to Sex N Violence's fun, make you wanna dance set. Sex N Violence is the newest side project from some of the members of Orange County rock heroes Bullets and Octane. Front men Gene Louis and Jeremy Miller brought the raw energy of punk rock with a flare of glam. They made love to the crowd like a cat in heat with their steamy dirty punk rock sex appeal. On a side note: you might recognize Jeremy Miller as one of Tila Tequila's latest victims to be heartbroken on "Shot at Love." Well, there was no need for a warm-up, they just straight kick started the set with the hard and fast "New Generation." The troops were restless and anxious for some more as the deliciously tatted Gene screamed out "You ready to dance?" With these four simple words, I was thrown into a dance frenzy, while sporting my best "Hell ya" face. You better believe I will be the first in line to catch the guys next show on May 14th at Venice Rocks!!! If you're ready to feel the heat these guys bring check them out at www.myspace.com/lovesexnviolence.

A big thanks to Alex's Bar for one crazy, sexy night out in the good ol' LBC!!!




Sex N Violence photo by Matt Grayson