Rose Savage - Singer-songwriter/SAG-AFTRA Actress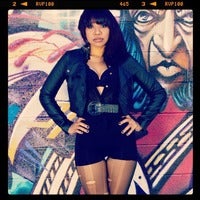 Hello Rose, It's been a while since our last interview in 2008. I think it's finally time for an update to let our readers know what you have been up to lately. How are you doing today?



-I'm doing great! Thank you so much for having me back J



When we did our last interview you were in the process of releasing your album "The New Her", how did the CD do hitting the music scene?



-We released online for streaming & it did very well! I was able to make fans world wide.



Since The New Her what other music have you released? It's been a while; feel free to lay it all out for us.



-It's funny because "A New Her" was originally created to artistically express who I was becoming as well as the transition I was going through in my life at the time. A few months after we created the album & released my music video for "My Heart" I needed to take a musical hiatus. I ended up going through a really rough break up… I had to move, let my heart heal & spend sometime figuring out who I was as an individual. I had to take some time off to become a NEW- new her… so to speak.



I started working on my latest EP project at the end of 2012. I had to reroute my musical direction a couple of times but I'm finally feeling really happy about the way my new music is turning out. Currently, I have three demo tracks available for online listening – "Call Me Cleopatra", "Sin City Style" & "L-O-V-E". Singles will not be available for download/purchase until possibly this Fall; right before the EP is available for release.



Are you still working with Dynamically Insane Records?



-Currently, no… but I am still collaborating with one of my original producers, Adrian Jones, whom was formally part of Dynamically Insane Records. There were no hard feelings, drama or anything like that. I just felt compelled to go in a different direction after my hiatus & wanted to work with a new team. So we parted ways.



Are you still living in Las Vegas? How has the music scene changed in Vegas since 2008?



-Yes, I'm still located in Las Vegas; though I also travel to California often for work.



The biggest difference I've noticed the music scene, is that a lot of the local venues I used to perform in have shut down. As the years have gone by, I went from performing regularly at smaller venues in the Arts District to now performing in casinos and lounges. I also branched out and have been performing in theatrical & musical production as well.



Our lives change so much over time and sometimes it's fun and funny to look back where you started and then look where you are today. I can't do this with many artists but with you I can. Who are some of your newer musical influences that inspire you?


-Lately I've had an audio addiction to Lady Gaga, MIA & Beyonce's new visual album… but oldies are goodies too. Sometimes I like to kick it old school & still feel very inspired listening to Missy Elliot or Michael & Janet Jackson.



How is your acting modeling career doing? Did you ever make it on the runway at the First Annual Love & Lyrics in the art district when you performed?



-I did! My modeling careen has been doing well, though it's not as big of a focus in my life as music or acting. Since then, I've modeled for a many people and events including: a few local Las Vegas clothing designers, a fashion show for Vault Denim Jeans & I also did an advertising campaign for Licorice International.



As for acting, I joined the actors union (SAG/AFTRA) in March of 2013. Two of the independent films I've acted in are available for purchase. "Bubblegum & Broken Fingers" is available on Amazon & a few local vendors. Little Monsters (By the creator of Puppet Master- David Schmoeller) is available for purchase at the website: www.littlemonstersfilm.com.



I'm really excited that Las Vegas has film incentives this year! I hear that with the new incentives many more film makers & major productions will be filming here in town.



How about your personal life... Can you tell us a little about what's been new? How are things going for you?



-Yes, I can share a little tid bit about my personal life. Things have been very well for me! I am engaged to the most amazing man and plan to be getting married in March of this year. I've been doing lots of wedding planning lately <3



Do you have any new websites? Last time I asked this you just had a MySpace and if I had to guess, you probably have branched out a little more on the social networking sites. List them all, go nuts.





-Yes! Here is a list of website where you can find me: