All Time Low - Don't Panic
Don't Panic
All Time Low
October 9, 2012
Hopeless Records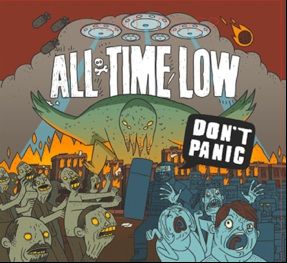 Never forget where you've come from, what you've done, and never, whatever happens in the world, let anything hold you back. That's what the fifth studio album, Don't Panic by the pop-punk band All Time Low screams.

With amazing vocals from Alex Gaskarth, heart-pumping beats by drummer Rian Dawson, chords shredded from the guitar of Jack Barakat, and a bass line that keeps you delving deeper provided by Zack Merrick, how could anyone pass up "Don't Panic," an album that was in the Top 40 charts, and peaked at number 1 on iTunes Alternative List, number 3 overall.

Most artists may forget what they record for after four albums, but not All Time Low. In "Don't Panic" this four piece makes it clear where they are from and how they'll never forget it. The first single released was an ode dedicated to their very own titled, "For Baltimore." This is their best album to date, and it provides a perfect example of a band that grows and becomes even better with time. It's full of anthems that make you want to look at your life, reflect, and create something from the pieces, just like they did.

Not only did they do just that, but they brought in artists for the tracks, "Backseat Serenade" featuring Casadee Pope, "So Long, Soldier" featuring Casadee Pope and Anthony Raneri, and "Outlines," featuring Jason Vena of Acceptance. All of the collaborations on this album add to the voice of Alex Gaskarth with "Outlines," of course, stealing the show.

My favorite song, however, without any other featured artists, is by far "Somewhere In Neverland." This track brings out the child, and helps me look towards the future at the same time. Okay, and it makes me okay being the Wendy to their Peter Pan, but can you blame a girl?

Though Don't Panic was released October 9, it's not too late to pick up a copy and take it to be signed by the band, because they are out on the road, on "The Rock Show At The End of the World Tour," which is wrapping up November 24th. So like it says in the YouTube video they posted as a promo for the album: "All Time Low is back, and with an album that will rip your pants off."