Family Force 5, Jonezetta, The Secret Handshake
Posted Nov 2, 2007, by Cristal <3.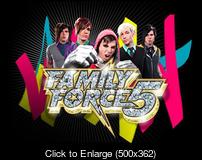 Genre: Indie; Pop; Punk; Rock;
Instead of witnessing the usual hardcore dancing, circle pits and moshing, I decided to take a night away from my stomping shoes and put on my clubbing shoes. On October 20th, Chain Reaction was hosting three amazing bands that are influenced by club music and giant crowds dancing to upbeat music. I've never got to expierence this type of show or scene so I was extreamly excited to see how it'd turn out.


First up was an AMAZING band called The Secret Handshake. I had first heard of The Secret Handshake earlier this year when browsing for new up and coming music that stood out which was no problem for them. As soon as the light's started and music came out the speakers the crowd went wild and Luis began his set. The Secret Handshake's music selection was taken from their recently released album "One Full Year" which has had great reactions from their fans with the upbeat new sound that was created. One of their last songs was "Summer of 98" which is one of the songs that sent TSH's music career to a high.



The one band that seemed to be one of the crowd's favorites was Jonezetta which who I've never heard of. Jonezetta, a band from Jackson, Mississippi defienetly "brought the heat". This Indie/Pop band brought a different kind of dance styled music which incorperated more Rockish styled riffs and drum beats that gave me the feeling of satisfaction. The fans of Jonezetta were truely dedicated fans that kept up the dancing from begining to end. Rock on!





Last but not least was Family Force 5, a band that showed their own unique style of music even before any instrument were played. This five piece band puts on an amazing show to their dress alike fans in their bright colored attire. Instead of a circle pit breaking out, in the back of Chain Reaction, a group of female fans that were dressed to impress broke out in a dance circle. I thought this was amazing. During the night, the floor was no longer recognizable as the usual "Hardcore Scene" floor, but literally was a dance party with only good vibes and good music.

Everyone is aware that at this show I was and did get an interview with Luis of The Secret Handshake but sadly when I was off on vacation, someone had stolen my voice recorder which held the interview. I might have accidently left it around my house but I have yet to find it so I believe someone did in fact took it from my lugage so if I can, I'll get another interview with him when he comes back to California. Some information to hold you down till then, Luis has already started to work on his next album which he hopes to come out in 2008 which will have a MoTown feel to it yet still dancey. Can't wait!!! Once again thanks to Luis for taking the time to speak with Big Smile Magazine.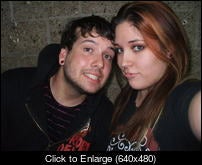 www.myspace.com/thesecrethandshake

www.myspace.com/jonezetta

www.myspace.com/familyforce5