No One Goes Home, Automatic Loveletter...
No One Goes Home, Automatic Loveletter, The Outline, We Are The Fury @ The Alley, 4-25-07
Posted Apr 29, 2007, by I Shot Chad.

I went to this show basically because I had heard of We Are The Fury. Not sure that I had heard them, I just heard of them. Plus it was on a Wednesday night and what better way to spend a weekday night than at a concert, unless it is watching hockey. I was watching the Ducks play Vancouver in the opening game of the second round of the playoffs, so it was hard to leave. I left after the first period. Getting ready to go to the show a friend of mine told me they had an extra ticket for the hockey game. After much internal battling, I decided to just go to the concert like I had planned. By the time I would have made it to the game, it probably would have been the third period. Plus, the Ducks were winning and who wants to see that? The guys at the Alley assured me that the bands playing were good and worth shooting. That eased the pain of not going to the hockey game. I have to say they were right. It was a fun show. I wasn't really expecting much, so it was nice to be pleasantly surprised.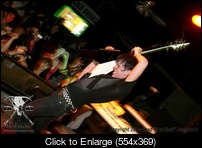 The first band I saw was No One Goes Home. I had never heard of them before, but I was told they were very popular. After witnessing their show I could see why they are popular. They play fun, poppy-punky-synth rock. 75% of the audience was there to see them, and 99.9% of those were teenage girls with cameras and video cameras. It was like a media circus, absolutely hilarious. After their set, everyone went outside and swarmed them, leaving 20 people to watch the rest of the bands. I met Jon Zink, NOGH's drummer after their set. He was cool dude and he was excited that I was their shooting them.




The next band was Automatic Loveletter. Generally I am not a huge fan of female vocals. I am sorry to say it, but I just can't in to it. There are definitely exceptions, of course. I would say Automatic Loveletter is borderline for me. They probably won't be one of my top favorite bands, but I would definitely recommend people checking them out. Automatic Loveletter's vocalist, Juliet Simms, was getting over being sick, so her performance suffered a little bit, but overall they still put on a great show, full of energy. There were probably 20-30 people watching, but Automatic Loveletter still poured their hearts into their set, I admire that. Juliet apologized several times for being sick, but her being sick didn't keep the crowd from enjoying their set. A couple days after the show I checked them out on myspace. They are really pretty good. Watch their video for "Hush" and you will see why people think they will be huge some day.

The third band was The Outline. Yet another band I had never heard of. I have to say I was a little worried when I went up on stage to shoot photos and they didn't have a drummer. The first song started out with a basic beat from a drum machine and I thought to myself that this might be a long set. Thank goodness that first impressions are usually wrong. After the first song, The Outline pointed out that their drummer quit a couple of weeks before they left on tour. So instead of getting just some guy to play drums for them, they rearranged their songs to synthesizers and drum machines. They had a few technical difficulties, but managed to put on one heck of a show. I think they were my favorite band of the night. After their set, I told them that they needed to just for go the whole drummer thing and continue with the drum machines and synths. I hope they take my advice. Go check them out.




The last band was We Are The Fury from Ohio. By this time, there was hardly anyone left inside. The majority of the people who were still there were outside talking with the boys from No One Goes Home. For all of those people, you missed out on a great show. We Are The Fury was awesome. They are a super fun live band, playing poppy, catchy rock-n-roll. There is a reason SPIN Magazine listed their song, "Close Your Eyes," as number 13 of 15 "songs you need to download now." I hung out with the band for a little bit after the show. They are some nice guys who love what they do and it shows in their performance. They have fun on stage, even if they are only playing for a handful of people. Check them out and show them some support.


Take care and God Bless!
-Chad "The Flash" Sengstock
www.ishotphotography.com
www.myspace.com/ishotchad